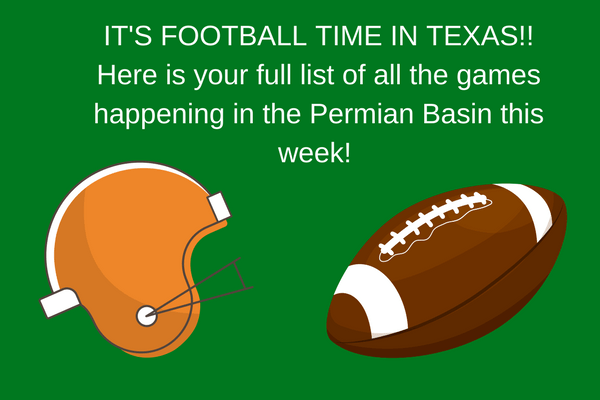 Here's your list of local games happening this weekend (9/13-9/14) in the Permian Basin!
(All games are listed with home team second. All games are Friday night unless otherwise noted.)
Levelland vs. Andrews Mustangs 7:00pm
Garden City Bearkats vs. Balmorhea Bears 7:30pm
Big Spring Steers vs. Monahans Loboes 7:30pm **Homecoming
McCamey vs. Crane Cranes 7:30pm  **Homecoming
Morton vs. Garden City Bearkats 7:30pm
Shallowater vs. Greenwood Rangers 7:00pm
Kermit Yellow Jackets ***BYE
Lamesa Golden Tornadoes vs. Canyon High Eagles  7:00pm
Midland Christian Mustangs vs. Wall 7:30pm
Midland Bulldogs vs. vs. Franklin High (El Paso) 7:00pm
Montwood vs. Midland Lee 7:30pm
Odessa Bronchos vs. Lubbock Coronado 7:00pm (Thursday night game)
Southlake Carroll vs. Permian Panthers 7:00pm
Seminole Indians vs. Pecos Eagles 7:00pm
Buena Vista (Imperial) vs. Rankin Red Devils 7:30pm
Forsan vs. Stanton Buffaloes 7:30pm **Homecoming
Trinity Chargers vs. Lubbock Titans 11:00am (Saturday game)
And don't forget the UTPB Falcons!
Saturday, September 14th, 6:00pm
Northern Michigan vs. UTPB Falcons (Grande Stadium, Midland)