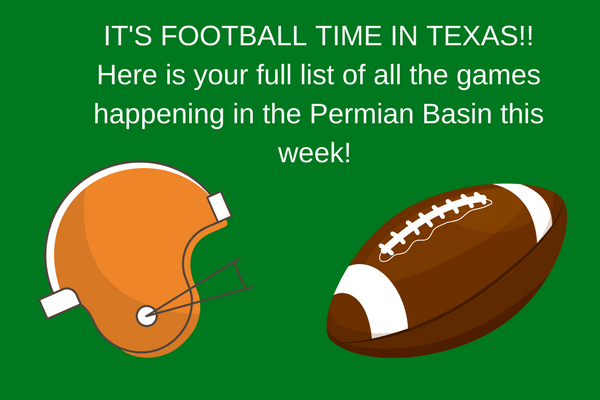 Here's your list of local games happening this weekend (11/2-11/3) in the Permian Basin! 
(All games are listed with home team second. All games are Friday night unless otherwise noted.)
San Angelo Lakeview vs. Andrews Mustangs 7:00pm
Balmorhea Bears vs. Ft. Davis Indians 7:30pm
Seminole Indians vs. Big Spring Steers 7:00pm
Anthony vs. Crane Cranes 7:30pm ***Senior Night
Highland vs. Garden City Bearkats 7:30pm
Greenwood Rangers vs. Monahans Loboes 7:00pm
Denver City vs. Kermit Yellow Jackets 7:30pm
Lamesa Golden Tornadoes vs. Snyder 7:00pm
Midland Christian ***BYE WEEK
Midland Bulldogs vs. Midland Lee Rebels 7:30pm
Odessa Bronchos vs. Amarillo Tascosa (Bivins) 7:30pm
Wolforth Frenship vs. Permian Panthers 7:30pm
Pecos Eagles ***BYE WEEK
Marfa vs. Rankin Red Devils 7:30pm
Stanton Buffaloes vs. Idalou 7:30pm
And don't forget the UTPB Falcons!
Saturday, November 3rd, 6:00pm
Texas A&M Commerce vs. UTPB Falcons