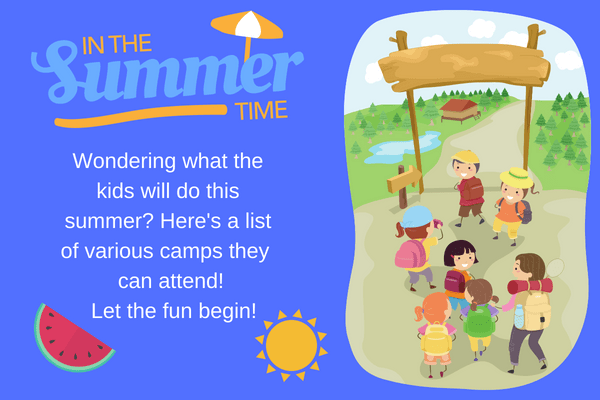 Looking for things for the kiddos to do this summer? We got you covered! Nature lover? Budding Artist? Future Athlete? Investigative Scientist? You'll find something for everyone!
MIDLAND
SUMMER SCIENCE CAMPS
The Petroleum Museum
Ages 6-8 years and Ages 8-12 years
June 9th-July 22nd (Camps have alternating dates!)
9:00am-12:00noon or 8:00am-12:00noon daily, $60-$100, depending on camp
Students will engage in fun experiments, creative activities, and robotic design. Topics include FULL STEAM Ahead!, To Infinity & Beyond, LEGO Mini Masters: Dream Park and more!
SUMMER THEATRE SCHOOL
Midland Community Theatre
Ages K-6th grade
June 7th-June 17th and June 21st-July 1st
9:00am-12:00noon, $160/week
Students participate in theatre, dance, music, and art classes.
"-OLOGIES" SUMMER CAMP
Sibley Nature Center
Ages 9-13 years
June 8th-11th or June 15th-18th
9:00am-12:00pm, $80/members and $100/non-members
Campers will have the opportunity to discover more about the plants, creatures, and history of the Llano Estacado and West Texas. Snacks are provided!
CLUE CREW CLUB
Keep Midland Beautiful
Ages 6 and up
June 16th and July 14th
9:00am-10:00am, FREE!
Campers will have the opportunity to discover more about seed ball making and composting! FREE T-shirt and activity books!
FAMILY FRIDAYS
Museum of the Southwest
All ages are welcome!
Friday, June 4th-Friday, July 30th
10:00am-6:00pm, FREE for members, Non-members are $5/adults, $3 children
Family-friendly crafts and activities, robotics challenges, Cimarex Science on a Sphere, and Spacecraft Design! Topics include Weather and Movements, Oceans and Deserts, Science in Fiber and more!
SUMMER CAMPS
Rays of Hope
MAD CAMP
Ages 4-18 years
June 21st-June 24th
9:00am-12:30pm, FREE!
MAD (Music, Art, Drama) Camp utilizes the expressive arts of Music, Art and Drama as tools of exploration and coping. Each day of camp includes opening and closing activities, discussion time and snacks.
TEEN CAMP
Ages 7th-12th grade
July 6th-July 8th
1:00-5:00pm, FREE!
This camp is designed to help teens to navigate the work of grief as the participants are also navigating puberty and the rituals of growing up.
SUMMER EXCURSIONS
Midland YMCA
SPORTS CAMPS
Ages 4-12 years
June 7th-July 30th (Camps alternate dates!)
1:00pm-4:00pm, $35/camp (members), $75/camp (non-members)
Campers can pick from a variety of sports activities, including soccer, volleyball, basketball, and tumbling!
BOWLING PACKAGE
Ages 4-12 years
Tuesday, June 15th, Tuesday, June 29th, Tuesday, July 13th, and Tuesday, July 27th
8:15am-12:30pm, $80/child
Includes Bowling and Shoes!
LUBBOCK SCIENCE SPECTRUM
Ages 5-12 years
Wednesday. July 21st
8:30am-5:00pm, $60/child
Includes charter bus transportation, admission, Omni movie, and lunch!
BALLET CAMPS
Midland Festival Ballet
PRINCESS BALLET CAMPS
Ages 3-4 years by June 1, 2021 (must be potty-trained)
June 14-17, June 28-July 1, July 5-July 8
Times vary, $125/child
This camp incorporates elementary ballet terminology, positions, and steps with creative movement, storytime, and crafts!
JUNIOR BALLET CAMPS
For students ages 5 – 6 by June 1, 2021. 7-year olds with no dance experience also welcome.
June 14-17, July 12-July 15
Times vary, $125/child
Magical camps incorporate art activities, ballet, and the music of the most famous ballets! Students will learn about the classic ballets which may include The Nutcracker, Swan Lake, Firebird, and others through ballet history, dance, and music!
SUMMER BALLET CLASSES
Ages 7-10 years
June and July options
Times vary, $70-$120/child
Choose between a three-week or two-week session of ballet classes that will keep your dancer learning this summer! Students will strengthen their fundamental ballet technique, work on balance and coordination, expand their vocabulary, and enjoy learning steps from classic ballets.
ODESSA
SUMMER ART CAMP
Ellen Noel Art Museum
Ages 6-8 years and 9-12 years
June 14th-July 23rd (Camps have alternating dates!)
9:15am-10:30pam and 10:45am-12:00noon, depending on camp, $100/student
Campers can learn all about different art styles, from ceramics to painting, to 3D Design and more!
WRANGLER SPORTS CAMPS
Odessa College
Multiple Ages
June-August (Camps have alternating dates!)
Morning and Afternoon camps, prices vary per camp
Kids can learn archery, tennis, Spanish, and more! They can even participate in Camp Runamuckus for a fun-tastic time!