The BIG MONEY DOLLAR BILL GAME is back!
We want to streeeeettttttccchh your $1 bills into $100, $1,000...even $10,000 in West Texas Credit Union CASH!!!!
It's easy to play. Collect one dollar bills with a 9,9 and 1 in the serial number. Stock up on them and better your chances of winning.
Weekday mornings at 6:20 and 7:20 Big D & Bubba with Beth will tell you the times we will play each day. If you have a dollar bill with the right numbers be the first caller at 432-520-9910 to stretch your one dollar bill into BIG money: $100, $1,000...even $10,000!!!!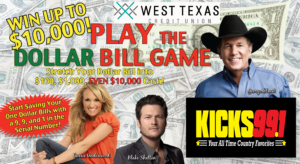 **See contest rules here