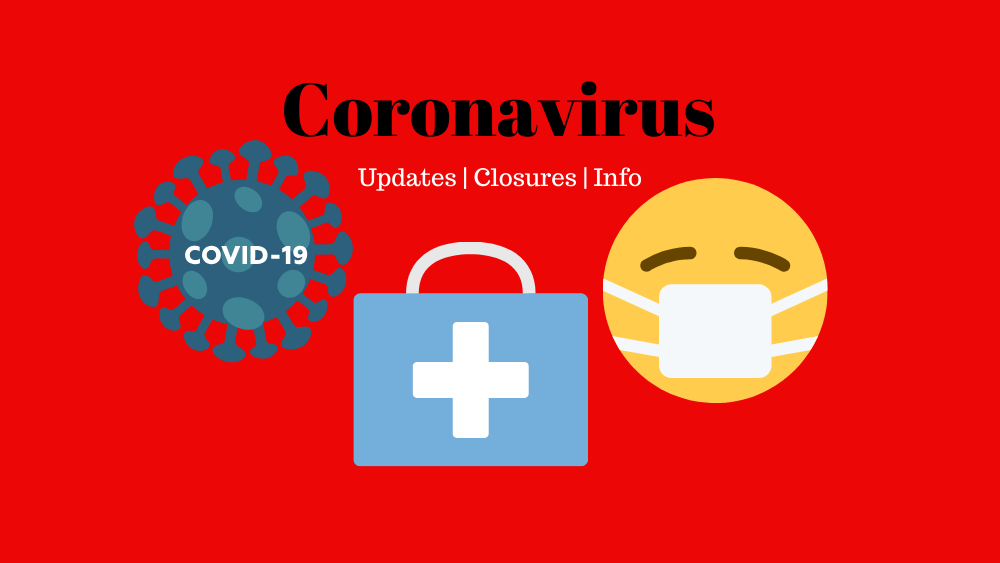 GENERAL INFO:
COVID-19 (Coronavirus) Advisory: If you believe you have been exposed to COVID-19 or are experiencing symptoms, please do NOT go to the Emergency Department, a health care facility/clinic or the health department to seek testing or treatment. You need to self-isolate and call your primary care physician, contact 68Nurse at 1-855-686-8773, or see a provider via the BasinMD app to seek guidance. For more information, please visit https://www.cdc.gov/coronavirus/2019-ncov/index.html and https://dshs.texas.gov/coronavirus/.
---

The Odessa Chamber of Commerce has some great resources for small businesses during this uncertain time.  Click HERE for details.
---
With many businesses and schools shutting down, hundreds of employees ad students are being affected. The Permian Basin Workforce Development Board as well as the 2-1-1 Assistance Hotline can connect residents to local resources that will help your family stay afloat. If you are experiencing financial crisis or unemployment, please contact them to see what help they provide for you and your family.
---
The West Texas Food Bank (WTFB) has disaster policies and procedures in place, and are prepared to serve 19 counties with pride during these uncertain times. At this time volunteer shifts have been suspended until further notice. Hours for the Food Bank are now as follows:
ODESSA FACILITY: Mondays 1 pm -4pm: Wednesdays 9am – 12 noon: Fridays 9am – 12 noon
MIDLAND FACILITY: Tuesdays 9am – 12 noon: Wednesdays 1pm -4 pm: Thursdays 9am -12 noon NOTE: CLIENTS MAY COME THROUGH OUR PANTRIES ONCE A MONTH.
At this time, mobile distributions will continue as usual. A list of partner agencies and mobile distribution sites is available on the website, www.wtxfoodbank.org.
---
Midland YMCA is offering Emergency Childcare Services. If you have a child aged 6 weeks-12 years and are required to work and cannot find childcare elsewhere, be sure to call. Hours are Monday-Friday 7:30am-5:30pm. Space is limited for this program. Contact them here.
---
H-E-B is offering short-term work opportunities as it experiences an influx of shoppers amid coronavirus concerns. New temporary job opportunities were posted Sunday for overnight stockers, daytime stockers, customer service assistants or baggers and checkers. The temporary jobs may last up to 60 days and can lead to permanent employment. The pay rates for the temporary positions are $9.50 an hour for customer service assistants or baggers, $15 an hour for overnight stockers, $13.50 for daytime stockers and $13.50 for checkers, according to the job postings.  Interested Texans can submit their applications online.
Walgreens, Dollar General, Walmart, Papa Johns, and Dominos are also all hiring temporary workers at this time.
---
Girls World Expo has been postponed to June.
---
West Texas is in desperate need of blood donations. There is a critical shortage and your help is needed! If you can donate blood or if you would like to host a Blood Drive, please contact Diane Scott at 432-296-8755 or go to www.vitalant.org for more information. You could save a life!
---
A Message from UTPB – The University of Texas Permian Basin:
In light of COVID-19 it has become increasingly important to act quickly to prioritize the health and wellness of the community. The University has made the proactive decision to cancel all large events consistent with the recommendation of health experts. Because of that, ASM Global management at the University-owned Wagner Noël Performing Arts Center will clear the calendar of all performances through mid-May.
---
As so many are doing, Big Brothers Big Sisters recognizes the importance of putting health before fun. So, Bowl For Kids' Sake – scheduled for this Sat. (March 21) has been postponed. We'll be sure and let everyone know the new date ASAP.
---
Regal Theaters, Cinergy and AMC will be closing all  theater locations starting Tuesday, March 17, 2020 as a precaution amid the coronavirus outbreak.
---
Chick-Fil-A, McDonald's , Jersey Mikes, Whataburger, Wendy's, Arby's, Rosa's, Taco Villa and most fast food restaurants  have all closed their dine-in options. At this time food can still be picked up at their drive-thru locations.
---
Dollar General will be helping seniors shop by allowing them to shop by themselves for the first hour of each day. New hours start Tuesday, March 17, 2020. Click here to find specific store information, including hours.
Walgreens is also offering a Senior Shop time. It will be Tuesday mornings from 8am-9am. This will be at all locations. Seniors can also shop online and select locations have drive-thru options for shopping. Get details on certain stores here.
---
Stores are changing their hours. This is so they can restock each evening and disinfect the stores. The changes are as follows:
HEB (all locations)    8am-11pm
Market Street   6am-11pm
Walmart  (all locations)  6am-11pm
Home Depot (all locations) 6am-6pm
Walgreens (all locations) 9am-9pm
---
Midland Park Mall and Music City Mall are changing their hours in accordance with CDC guidelines. You can get the information on the new mall hours as well as each store's individual hours here for Midland Park Mall and here for Music City Mall. 
---
Inmate Visitation: In accordance with Governor Abbott's declaration the TDCJ will be temporarily suspending visitation at all facilities (statewide) until further notice. The statement released said "While we understand the value and significance of the visitation process at our facilities, we also understand the importance of providing and maintaining a safe and healthy environment for all involved."  For continued updates, please refer to the agency website.
---
The following business have canceled/postponed all activities and closed until further notice:
Midland Downtown Farmer's Market
---
The Crisis Center of West Texas Executive Director Lorie Dunnam said via news release that her team came together to find the best ways to keep staff, clients, and community safe in the face of COVID-19 and that some services will change until further notice.
---
All programs at Sibley Nature Center are postponed until further notice. The trails will remain opened.
---
ODESSA:
During this school closure, ECISD is making breakfast and lunch available each day to students who need it. This will start with lunch on Tuesday, March 17, at 11:30 a.m. Breakfasts will be on Wednesday.
Breakfast service will run between 7:30-9:00 a.m.
Lunches will be served between 11:30 a.m.-1:00 p.m.
Meals will be available at every school, except the two early college high schools and the Alternative Education Center. For additional info, visit the ECISD Facebook page, or the ECISD website.
---
From the Odessa American: All scheduled Odessa Municipal Court appearances including open court, pre-trials, jury trials and bench trials have been cancelled for the months of March and April. This includes jury duty. Those who are issued citations or have questions about existing citations may call the Odessa Municipal Court at (432) 335-3300.
---
Mission Fitness at the MCH Center for Health and Wellness will be closed on Tuesday through March 30th at the direction of Medical Center Hospital. At that time, we will reassess the situation to determine how to proceed moving forward.
---
From Ector County Coliseum: Due to public health concerns pertaining to the Covid19 pandemic the Ector County Coliseum will not be hosting the Permian Basin Gun Show scheduled for March 21st and 22nd 2020 along with the Wrights Amusements Carnival that was also scheduled to open this weekend. The Odessa Jackalopes hockey team and Warbirds football team games have also been postponed with the resumption of game play still pending.
---
---
MIDLAND:
Midland ISD Child Nutrition Services (CNS) will provide free breakfast and lunch to any MISD students during the weeks of March 16 and 23.
⏰ Breakfast available: 7:30 to 8:30 a.m. at the following locations
⏰ Lunch available: 11:30 a.m. to 12:30 p.m. at the following locations
✳️ You do not have to be on free or reduced lunch to receive a meal.
✳️ You may pick up a meal from any location. You do not need to go to your home campus.
✳️ Meals are grab-and-go. Please walk or drive up to the location.
For locations and details, visit MISD on Facebook or the MISD website.
---
The Midland YMCA is offering meals to those in need. It is available Monday-Friday from 1:00-1:30pm. They are also offering child care for those parents who are required to report to work. However, all youth & adult sports programs, swim lessons, Silver Sneakers, and Active Older Adult activities have been suspended until 3/29/2020. Get more information here. 
---
Midland Memorial Hospital has suspended all elective surgery cases through the end of the week. They will begin to evaluate next weeks procedures as well. If you have an elective procedure scheduled please check with your doctor or hospital to see if you will need to reschedule. There are also new visitor guidelines and emergency department procedures. Be sure to check out the Midland Memorial website here for all the information.
---
The Midland County Horseshoe Arena has announced they will be canceling or postponing all events for the next 30 days.
---
Midland Chamber of Commerce offices will be closed through March 20th. During this time the team will continue to work remotely and can be reached via email and voicemail. All Chamber related activities and events during this period have been canceled.
---
Meals On Wheels delivery will continue operations. However, after careful consideration of recommendations regarding COVID-19, Senior Life Midland has made the decision to close our administrative office to the public March 16-March 28th. These safety measures also include the closing of Southeast Senior Center and Midland Senior Center and we will post pone all meetings, training and gatherings- including March For Meals and Cafe y Pan Dulce networking event.  *if you require help or assistance please call our office at 432- 689-6693. Our office staff will be receiving phone calls and returning messages.
---
Midland County Libraries have closed and canceled all activities until further notice. You can access their electronic resources here. 
---
---
SURROUNDING AREAS:
Andrews: Until further notice, the City of Andrews has decided to lock the doors at City Hall during regular business hours to help slow the possible spread of the coronavirus.  They are asking that any city business that can be handled online or by the phone be done so in that manner. If you believe your request cannot be handled over the phone, please call 432-523-4820 and request the appropriate department for a walk-in appointment.
Andrews ISD will offer breakfast and lunch to all students under the age of 18.  Students must be present and in the car to receive a meal.
From the Andrews Chamber of Commerce:  The Andrews Chamber Board of Directors have decided to cancel our 2020 Wild Wild West this year.
---
Big Spring: Due to the evolving COVID-19 pandemic, in an effort to keep our community and staff healthy and safe as possible, the Big Spring Herald office will be closed to the public beginning March 17 for the next four weeks. During this time no FedEx packages will be accepted to ship out.
The office will still operate for normal business hours 8 a.m. – 5 p.m. Payments, subscriptions, and other business will still be conducted by phone, during those hours. During this time the newspaper will continue to be produced and delivered per normal routine. More information here. 
Big Spring ISD will be providing sacked meals for students while campuses are closed.  Meals will be available at three locations 8:30 a.m. – 9:30 a.m. for breakfast and 10:30 a.m. – Noon for lunch, Monday through Friday.  Student meals can be picked up for any BSISD student at any of the three designated pickup locations, Moss Elementary, Marcy Elementary, or Big Spring Junior High. The pickup area for Moss and Marcy will be the bus lane behind each campus.  The pickup area for the Junior High will be outside door #5 which is located on the east side (Owens St) of the campus. Individuals retrieving meals for students will receive a bag containing both a breakfast meal and a lunch meal.  Food service or district personnel will be outside and ready to hand the sacked meals to drivers.
Campus administrators and directors have been and will be meeting to begin to develop remote and online learning opportunities for students PreK-12.  In the event of a continued closure of schools, we will be ready to provide resources as soon as possible.
---
Monahans: Starting Tuesday, March 17th, The Monahans Chamber of Commerce  office will be open only from 9am – 12pm, Monday through Friday until further notice. All events at The Ward County Event Center are cancelled through March 31, 2020. At this time, The Event Center is not booking any new events until further notice.
MWPISD Free Meal Distribution begins Monday, March 23rd. Breakfast will be served from 7:30-8:30am and lunch is served from 11:00am-12:00 noon. Meals will be distributed in a Walk-Up or Drive-Thru format. A student must be present to receive a meal. Meals are FREE TO ALL MWPISD Students. Locations are Sudderth Elementary and Monahans High School. 
---
---