The BIG MONEY DOLLAR BILL GAME is back!
We want to streeeeettttttccchh your $1 bills into $100, $1,000...even $10,000!!!!
It's easy to play. Collect one dollar bills with a 9,9 and 1 in the serial number. Stock up on them and better your chances of winning.

Weekday mornings at 6:20 and 7:20 Big Zak & Beth will tell you the times we will play each day. If you have a dollar bill with the right numbers be the first caller at 432-520-9910 to stretch your one dollar bill into BIG money: $100, $1,000...even $10,000!!!!
Congratulations to our winners (so far):
Linda Vuvia (Odessa)
Brittney Neatherlin (Odessa)
Del Dealing (Midland)
Allan Winn (Odessa)
Laura Sanchez (Odessa)
Roxanne Edminson (Gardendale)
Brooke Belknap (Odessa)
Steve Bramley (Andrews)
Diane Friday (Midland)
James Hunt (Midland)
Dianne Prieto (Odessa)
Teresa Bennett (Odessa)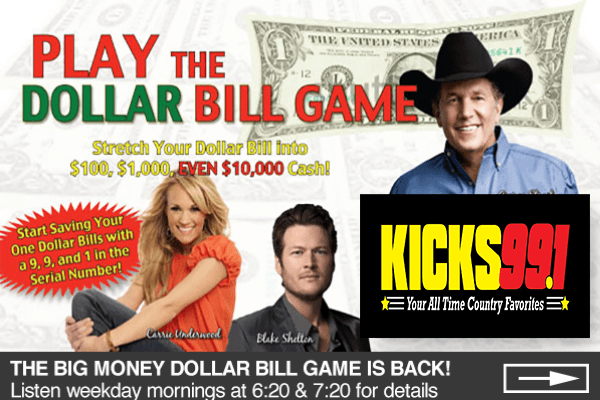 See official rules HERE.