Did you know Arnold Schwarzenegger owns a tank? Was that the least surprising sentence you've ever read? Yep, the guy who made a career from causing and/or being around explosions also spends his free time... exploding things. And now he wants you to join in the fun. Check out the explosive video below and I posted the link for more info after.


Crates of explosives, a rocket launcher, and Arnold Schwarzenegger. Boom goes the dynamite! Enter here for the chance to blow stuff up with Arnold: http://bit.ly/BlowItUPWithArnold

Every $10 entry benefits After-School All-Stars and puts you in the running to win a trip to LA, including flights, a 4-star hotel, and a day of blowing stuff up with Arnold.
---
Memorial Day can be a lot of fun, but there are also some heightened risks involved! Below are the top 5 ways to enjoy your holiday safely :)

1: Food Safety.
It's always important to thoroughly cook foods, especially when you're grilling with ground beef, poultry and pork. Make sure you refrigerate perishable foods within two hours. And don't forget to always wash your hands with soap and water before handling food and after touching raw meat.

2: Fire Safety.
Be sure to clean your grill before using it; grease or dust could cause a fire later. When using a grill do not use it in the garage, porch or other enclosed spaces. Make sure to not park cars on the grass as the hot exhaust can easily ignite dry vegetation.

3: Sun Safety.
Staying hydrated is key, so remember to drink lots of water. Wearing a hat and sunglasses can help block out unwanted sun, but the best protection from the sun is sunscreen with an SPF of 15 or higher.

4: Water Safety.
Don't, under any circumstances, swim alone. Make sure to always wear a life vest while boating no matter how uncomfortable they are. And always keep an eye out for children who are in or near the water.

5: Travel Safety. Before hitting the road make sure your vehicle has been serviced. Always wear your seat belt and never drink and drive or travel with anyone who has been drinking.
---
If there are two things people know I like, it's trying a new beer for the first time, and novelty folk songs based off of 1970s B-Movies. My dream is for one day have those two things combine... and this Friday, the dream is real.

This Friday at the Blue Max in Midland there is a launch party for Guns & Oil Brewing Company.
Trying a new beer? Check.

Performing at this party? The Possum Posse, a sardonic honky-tonk bluegrass band from Austin. They have a lot of great songs but their best claim to fame is
"Guy on a Buffalo" An amazing four-part YouTube series of amazingness. They basically took an insane movie from the 70s that was called "Buffalo Rider" and turned it into the greatest saga ever told (by a sardonic honky-tonk bluegrass band) I've posted all the videos below... and I will see you at the show on Friday... I'll be the guy over zealously yelling "GUY ON A BUFFALO" the entire time.



Guy On A Buffalo - Episode 1 (Bears, Indians & Such)





Guy On A Buffalo - Episode 2 (Orphans, Cougars & What Not) - This is my favorite episode





Guy On A Buffalo - Episode 3: Finale Part 1 (Origins, Villains & The Like)





Guy On A Buffalo - Episode 4: Finale Part 2 (Rehab, Vengeance & What Have You)
---
As I perused the interwebs this morning I came across a story that stopped me in my tracks... Is this real? Is this where our world is going? Am I dreaming??
S'Mores Oreos are coming... and should be in stores this Friday! Here's the article > S'Mores Oreos Are Finally Here!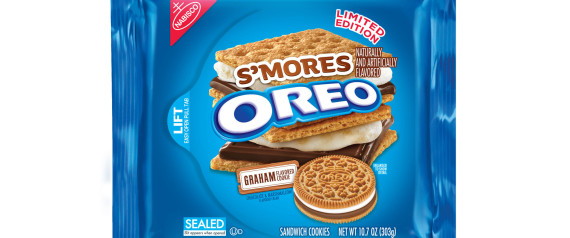 So, yeah, I'll be camped out in the cookie aisle waiting for these this Friday!
---
Looking for fun weekend plans!? We've got you covered!

MFD is holding the Strong Man Competition tomorrow 9am-1pm. This is to benefit the family of firefighter Aaron Hughes who passed away last week after a year long battle with cancer. Great cause. Children can participate for free…gunna be a lot of fun call 432-528-4942 for more info
The National Child Safety program is having Free FBI quality fingerprinting in Odessa tomorrow for children. According to police this is a really IMPORTANT tool when GOD forbid a child goes missing…having fingerprints handy assists agencies. And the best part is it's free!
Jonah's La Monica's Palladium Arts Studio cordially invites you to the launch partly of their new store ELEMENTS. RED CARPET EVENT Come shop our new store and walk around the Palladium Arts Studio Cocktails - Hors D'oeuvres - Live DJ - Free Giveaways Starts tomorrow at 630pm.
The 7th Annual Todd Edwards "Sunshine" Memorial Golf Classic will be held May tomorrow at Hogan Park Golf Course. $100 per player. 8:00 am and 1:30 pm.(Includes Golf Cart, Range Balls before Tournament, T-Shirt, Gift Bag, Lunch, Supper, Water, and Keg beer) Silent Auction on-going all day. Trophies, polo shirts and gift cards are awarded to 1st - 4th place. Proceeds from the tournament benefit the Todd Edwards Scholarship Endowment at Texas Tech University
Johnny Cash and Roy Orbison are performing at Ector Theater... KIND OF! They are impersonators, but they're really good. Going to be so much fun in downtown Odessa TOMORROW, Tickets are $30.
---

So I was in a mood, which happens from time to time. I was in a mood to watch some youtube videos of people eating really really hot peppers. I found this video. That video is by youtubers Rhett and Link. They eat the worlds hottest pepper, The Carolina Reaper. Now normally I would embed the video instead of just the link... but I didn't want to do that because it was really intense. They basically experience every mental and physical feeling a human being can feel. So if you want to watch that you go right ahead. Meanwhile I found this other video to take my mind off the first video... they just deep fry random objects and try to eat that instead... enjoy:



---
---

Verne Troyer, aka Mini-Me from the Austin Powers movies, is a pretty cool guy. He is also a bit of an Internet legend these days. He routinely shows up in comment sections of websites as himself, was one of the only celebrities to partake in the worlds largest secret santa exchange, and doesn't let his small size stop him from doing whatever he wants to do. Case and point, he just started a YouTube Channel and his first video is him at a gun range. So if your life was missing a video of Mini-Me shooting .50 caliber bullets as large as his arm then your life is now complete.



Here is a bonus picture Verne tweeted during the last shark week... he is also really into shark week.

---
After an indulgent weekend, it's very easy for me to put on 1-2 pounds. But for some reason…I always feel like it's in my face!

Whether you would like to ditch those chubby cheeks or double chin for a more sculpted facial look, or you are JUST trying to combat the face bloat from a weekend of too much sugar and salt, I have the tricks that make your face skinny!

Eat Cinnamon: Scientists have claimed that cinnamon holds a certain type of antioxidant that makes your insulin all the more sensitive, which in turn effectively stabilizes your blood sugar. This can deflate the face! I like to add cinnamon to my coffee every morning. It's an easy, quick an delicious way to start of your day with a super-model face!
Eat Wild Salmon: Wild Salmon is considered one of the best face fat reducing foods because it contains high protein and omega-3 fatty acids. This can be mentioned as a double shotgun approach of reducing face fat. Most people, trying to lose weight in their face, lack omega-3 and when this added to the diet, the fat starts coming off.

I hope these tricks are helpful to you! :) - @GillianOnAir
---
So much to do this weekend in May around the Permian Basin. Here are your top 5:

1. CAStLE, will be hosting its first fashion show, Catwalk for a Cause. CAStLE is a brand-new non-profit that aims to provide scholarships to children that need various therapy services. Happens at 6pm today off State Hwy

2. Tomorrow Sul Ross Theatre Presents its annual murder mystery event. I've always wanted to do one of these! That's at 7pm.

3. Also on Saturday FREE CRAWFISH with the mudbug bash! That's noon-2pm off Andrews hwy in midland. There's gunna be a drawing for tickets to see Hank Williams Jr.!

4. Kicks Night at the Rockhounds game!

5. Finally don't forget mothers day is Sunday! This is the most important thing to make sure you celebrate this weekend! Make your mom feel special!

For more info on any of these events visit: www.midlandtxchamber.com

---