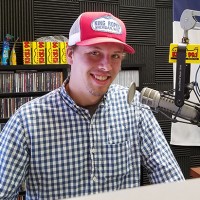 Dominick Allan
Originally from Chicago Illinois where I grew up in a northwest suburb called Arlington Heights. Growing up I have always loved country music and discovering new artists.
I attended Columbia College Chicago where I studied Radio Broadcasting. After graduation I worked as a weekend host in Kankakee, IL. and as an afternoon host in Buffalo, WY. before I made the big move out to Midland TX.
I love watching NASCAR, going to rodeo's and have a major obsession for Texas red dirt country. I hope you join me on the job, 2p – 7p, Monday – Saturday on KICKS 99.1 Genuine Country.
P.S. The secret to my heart is a home made chocolate chip cookie.
TWEET Dominick 
Dominick's Blog

Join the Moonshine Bandits as they're this week's featured artist on my podcast the Opening Act. Tex from the Bandits joins me to talk about their latest album Baptized in Bourbon which is currently available to you.