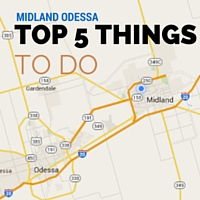 1. Disney Pixar's "Coco" is playing at the Andrews Public Library. Kick off the summer with this special showing. It starts Friday afternoon at 2pm.
2. The 2018 Permian Basin Collector Car Auction is this Saturday from 9am to 6pm at Midland County Horseshoe Arena. There will be over 200 antique, classic, collectible, custom, muscle, luxury and sports cars. Doors open at 9am. Auction begins at 10am.
3. Cedric Benson Football Camp and Showcase is this Saturday from 9am to noon at Lee High. It is for students in grades 2 to 12. More info is available HERE.
4. There will be a special sensory-friendly screening of Show Dogs this Saturday morning at 9:30 at Cinergy. This is dedicated to guests affected by autism and sensory prossessing disorders. The showing will feature brightened light levels, reduced sound volume and room for guest interaction and movement.
5. "Smoke On The Mountain" opens at Midland Community Theatre this Friday and Saturday evenings. Opening night reception starts at 6:30pm. It is a gospel musical for all ages. Tickets are $20 for adults. $15 for students. For reservations call 522-5225 (NOT MCT).