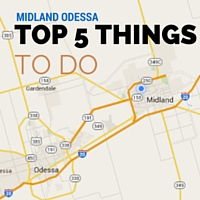 1. Open cocktail reception for 'Portraits Of Courage' is this Friday evening at 6:30 at the Museum Of The Southwest. Be the first to see the vibrant collection of paintings by former President George W. Bush. 'Portraits Of Courage' honors the sacrifice and courage of America's military service men and women. Info and advanced tickets are available HERE.
2. Super Saturday is this Saturday morning from 8am to noon at the Midland YMCA. Come see all the new classes and group fitness schedules packed with music and move. You can also meet the instructors. Take advantage of their 'No Joiners Fee' month. This event is FREE and everyone is welcome.
3. There will be a License To Carry class this Saturday morning at 9 at the Midland Shooters Association (E. County Rd 160). The class teaches the laws of concealed carry, basic handgun safety and storage, use of force and non-violent dispute resolution. The fee is $100.
4. Saturday Movies At The Library is this Saturday! The downtown location is showing Despicable Me 3. The Centennial Library will be showing My Little Pony. They both start at 2pm. You'll enjoy FREE movie and popcorn. All kids 12 and under must be accompanied by an adult.
5. The Permian Basin Gun Show is this Saturday and Sunday at the Ector County Coliseum. It runs both days from 9am to 5pm. Cash only entry fee is $6.00 for Adults, Kids ages 5-12 are $1, and Kids 0-4 are free. More info is available HERE.