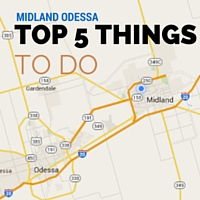 1. Parents Night Out is this Friday evening starting at 6 at YMCA (800 N. Big Spring in Midland). Parents will have an opportunity to do some shopping, have a date night and give your children a fun night at the YMCA. Kids will enjoy a fun night of activities. Participants will enjoy dinner and a drink. Child care will be provided for kids 6 weeks to 12 years from 6pm to 9pm. To register or for more info call 432-682-2551.
2. The 28th Annual Texas Sized Garage Sale is this Friday thru Sunday at 407 E. Scharbauer Drive in Midland. It benefits Meals On Wheels. There will be antiques & collectables, Christmas decorations, exercise equipment, electronics, baby items and more! Early bird sales are Friday from 10am to 3pm. Saturday sales will take place from 8:30am to 3pm. You'll get special 50%-off sales on Sunday from 2pm to 5m.
3. The 17th Annual Breast Cancer Awareness Chili and Bar-B-Que Cook-Off is this weekend at the American Legion in Midland. All proceeds from the raffle and cook-off will benefit Gifts Of Hope, Hope House & Look Good-Feel Good Shop. The bake sale is Saturday morning starting at 10. There will also be face painting, hair painting and games for kids. More info is available HERE.
4. West Texas Fest is this Friday evening starting at 7 at CAF. There will be plenty of West Texas country music, Texas beer and whiskey tasting, corn hole tournament and more. Admission is $40 and includes 6 tastings and food from local trucks. It helps support Ellen Noel Art Museum. More info is available HERE.
5. The Wildcatters Ball is this Saturday evening at 7 at Rolling 7's Ranch Event Center. You'll enjoy live music from Wade Bowen. All proceeds benefit Big Brothers Big Sisters of Midland to help at-risk children by matching them with a mentor. More info is available HERE.