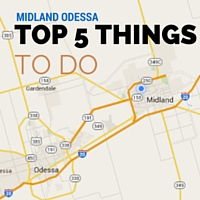 1. There is a Stuffed Animal Sleepover this Friday afternoon, starting at 4 at Midland Centennial Library. Drop off your stuffed animals and let them spend the night. You can check in on Facebook Live to watch story time with your buddies! Then, return Saturday to pick up your animals and watch a photo slideshow, enjoy story time and have a parade around the library.
2. St. Ann's Run To The Fair 1K/5K/10K is this Saturday morning at 8, starting at St. Ann's Catholic School. Chip timers are available. Registration is $30 and includes a t-shirt and goody bag. More info is available HERE.
3. Tap Into Downtown Odessa is Saturday evening starting at 6 on 4th street in Odessa. This is the premiere wine and craft beer tasting event featuring Texas' best wines and craft beers, food trucks and live jazz and acoustic music. Admission is $15 and includes a free tasting glass and 5 free tastings. More info is available HERE.
4. Best Of The West Festival is this Sunday, October 1 at Bush Tennis Center (Briarwood Ave). There will be tons of family-friendly events like a Fun Run 5K, Tennis Carnival, Chili Cook-Off and more! Plus you'll enjoy live music from Pat Green. Proceeds benefit ACE Outreach program. Tickets are $25 in advance, $30 at the door. More info is available HERE.
5. The "Out Of The Darkness" Permian Basin Walk is this Sunday afternoon at Memorial Gardens in Odessa. Check in is at 1. The Walk begins at 3. Join the efforts in raising awareness and funds for the American Foundation For Suicide Prevention.