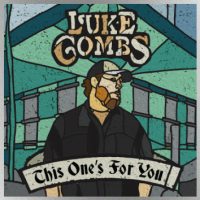 River House Artists/Columbia NashvilleThere's no stopping newcomer Luke Combs. This week, his new single, "When It Rains It Pours," rockets into the top ten, on the heels of his first number-one, "Hurricane."
Luke admits "When It Rains It Pours" is a tip of the hat to the sense of humor of his labelmate, Brad Paisley.
"I love that song and we kinda sat down and wanted to write a fun kinda Brad-Paisley-type tune, you know, tongue-in-cheek a little bit," Luke says. "I think we nailed it, man, and people are loving it so far."
The North Carolina native also recruited a bunch of friends to help jim make a funny video for the song. He and his buds traveled to Charleston, South Carolina to squeeze in a little work over the Independence Day holiday.
"I went down there to have a couple days off for the Fourth," he explains, "and so we went down there and shot the video, and luckily we had the Fourth off. It was about two days of being up at 8 a.m. and going to bed at 10 p.m. every night, and a bunch of different locations and outfits and stuff."
"It was a lot different than the 'Hurricane' video," Luke adds, "'cause I kinda just pretended to sing onstage during that video. But this one was a lot more work this time around."
Luke's already sold out close to 20 dates on his 25-city Don't Tempt Me with a Good Time Tour. It kicks off October 3 in Los Angeles.
Copyright © 2017, ABC Radio. All rights reserved.