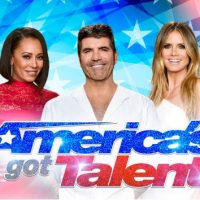 NBCUniversal Media – 2017(LOS ANGELES) — America's Got Talent continued its semifinal rounds at Hollywood's Dolby Theater Tuesday night, with 11 acts relying on fan votes to see which five of them would advance to the finals. Simon Cowell, Howie Mandel, Heidi Klum and Mel B were treated to performances from singers, magicians and dancers, all introduced by host Tyra Banks.
Here's a rundown of some of Tuesday's highlights:
After having a video chat with her namesake, Celine Dion, nine-year-old Celine Tam kicked things off with her version of "How Far I'll Go," from the Disney animated feature Moana. Simon called the performance a "massive, massive step up." However, Mel B disagreed, explaining that, in her opinion, the song didn't showcase Celine's amazing range.
After soliciting thousands of tweets from home viewers who were asked to choose a celebrity, city and object, mentalist Colin Cloud printed them out and had Howie and Mel B select a bunch of them from studio audience members. Mel B then chose a piece of paper from the pile and Heidi chose a specific tweet. Colin successfully predicted which tweet would be picked and went undercover all week long taping videos in which he had all of the judges say those same words. "You're starting to freak me out a little bit," said Heidi," "but I love it." Simon added, "I got goosebumps on my goosebumps on my goosebumps."
Christian Guardino, who was in danger of being eliminated from the competition during the quarterfinals, tried to step up his game with a cover of Marvin Gaye's "What Going On." Howie, who pressed his Golden Buzzer for Christian during the auditions, answered the musical question with "You're going on." Mel B declared, "That is how you kill it on AGT."
Deaf singer Mandy Harvey used sign language as she delivered a haunting original tune called "Release Me." Simon compared her to Adele, adding that he thought the performance was "about as good as I've heard on this show…. Breathtaking." Howie told Mandy, "You make music more powerful than it is." Heidi called it her best performance yet.
Dance crew Diavolo, who describe their act as "architecture in motion," perform around, on top of and inside large structures. Tuesday's routine to Harry Styles' "Sign of the Times" made Heidi declare, "You guys came to win; this is a million dollar act." Mel B screamed what has become her catch phrase for season-12, "What just happened?" Simon said he was "gobsmacked."
Angelica Hale, 10, closed out the show with her cover of "Without You," by David Guetta featuring Usher. Mel B didn't think it was a perfect performance, but praised Angelica for owning it. Simon also complimented her for on bold choice.
America's Got Talent continues Wednesday at 8 p.m. Eastern time on NBC.
Copyright © 2017, ABC Radio. All rights reserved.