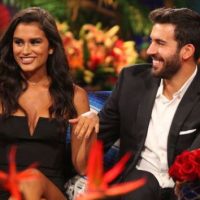 ABC/Paul Hebert(LOS ANGELES) — You know it's true love when you don't need to hold anything back from your significant other, even, um, a little flatulence. At least that's the way it was for this season's Bachelor in Paradise love match, newly engaged couple Taylor Nolan and Derek Peth.
The pair tell ABC Radio they knew right away they had a connection because they weren't afraid to share their bodily functions with one another.
Taylor says on their first night, "We snuggled and farted on each other." Adds Derek, "Yeah, that was when we knew it was real."
Derek proposed to Taylor in front of a studio audience on the Bachelor in Paradise's season finale Monday. And while you'd think an event like that would be memorable enough, the couple says they also wanted additional souvenirs. "We were laughing. We were like, 'We need stuff to remember this by,'" recalls Derek.
"I remember like stealing stuff off the stage," Taylor says.
And what about that other big moment on Monday's finale — footage from the night the consummated their relationship? Wasn't that a bit intrusive? Not at all, say the blissful couple.
"We have no problems with the fact that people know that we've had sex that night. That's OK," Derek says. "People have sex and you know it's not something we should shy away from. They do. It's like a healthy thing for relationships, especially if you're gonna put a ring on it."
Copyright © 2017, ABC Radio. All rights reserved.