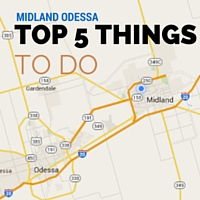 1. The Permian Basin Fair kicks off this weekend and runs through September 16. Enjoy the Wild West Show featuring a Wild West Shootout, bronc and bull riding, barrel racing, goat roping, Battle Of The Bands, a classic car show, pageants, carnival rides and tons of carnival food! Admission is $10. Kids under 3 are free. Carnival ride arm bands are $25.
2. Septemberfest is this Friday through Sunday at the Museum Of The Southwest. This year's festival will celebrate the beauty of the Lone Star State. Sunsets and skylines will pay homage to our state's expansive horizons and paint-worthy skies. There will be artist booths, live entertainment, a petting zoo and tons of food booths. Tickets are $5 for adults – $3 for kids.
3. The Peddler Show is also this weekend at Midland County Horseshoe. This is a unique Fall Market where you can shop from talented designers, artisans, creators and craftsmen from all over the country. You'll enjoy jewelry, home decor, clothing and so much more! Admission is $7 for adults. Kids 12 and under are FREE. More info is available HERE.
4. 22 Challenge is this Saturday morning at 8 at Midland Memorial Stadium. Army National Guard has issued a challenge to any and all participants to join them in 22 repetitions of pushups, sit-ups, burpees or 22 laps (5.5 miles). It is all to help bring awareness to suicide and PTSD.
5. American Idol season 11 winner, Phillip Phillips, will be at Midland County Horseshoe this Saturday evening at 8pm. Tickets for the 10th Annual 'Concert For Kids' are available HERE.