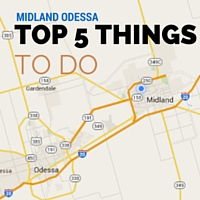 1. The West Texas Blowout is this Friday at Cimmarex Pavilion. Gates open at 4pm. Chet Johnson takes the stage at 5:30pm, followed by Flatland Cavalry, Electric Boys, Whiskey Myers and Aaron Watson. Tickets start at $25. Get tickets and more info HERE.
2. Family Fridays wraps up this week! Gather the whole family and enjoy educational, fun activities based on a theme that fosters the love of learning. It is geared towards ages 4 to 12, but everyone is welcome. This Friday's theme is Happy, Healthy and Whole. It is Friday from 10am to 2pm at the Museum Of The Southwest. Admission is FREE with paid membership or admission.
3. Ice Cream Festival 2017 is this Saturday and Sunday in downtown Midland. You'll enjoy family fun, activities, food, water slides and the best ice cream in the region. Be sure to take advantage of the FREE samples! More info is available HERE.
4. The 24th Annual Butterfield Festival is this Saturday at the Ward County Museum in Monahans. It will be a full day of family fun including a Horseshoe & Washer Tournament, pie auction, bull rides, BBQ ad dancing under the stars with Cameron Nelson Band. Tickets start at $10. Children under 3 are FREE. More info is available HERE.
5. The Summer Sunday Lawn Concerts series continues this weekend. This Sunday is 'Date Night' with live music from Oscar David. Grab a lawn chair, blanket, your family and friends and gather on the lawn of the Museum Of The Southwest, Turner Mansion for a great evening of music and fun, starting at 7:30. This event is FREE and everyone is welcome.