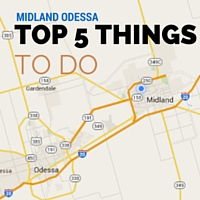 1. This Friday is Trivia Game Night at True Texas BBQ (University Blvd in Odessa). The entire family is welcome to play Live Team Trivia. It is Friday evening from 7 to 9. Admission is FREE!
2. Celebrate St. Patrick's Day this Friday at Centennial Library in Midland! There will be crafts, story time, genealogy information, puzzles, 3D print demo and a special visit from the Celtic Heritage Society of the Permian Basin. It is Friday afternoon from 4:30 to 6. Be sure to wear green!
3. The Permian Basin Spring Stampede Rodeo is this weekend at the Midland County Horseshoe Arena. Bring the whole family out for bull riding, saddle bronc, bareback, steer wrestling, team roping, barrel racing and more! You'll also enjoy entertainment from Showdog The Rodeo Clown, the Dynamic Dames and more. Doors open Friday ad Saturday at 6pm. Shows begin at 7:30pm. Admission is $15 per person.
4. The Color Vibe 5K is this Saturday from 9 to noon at Scharbauer Sports Complex. Grab your running shoes and party hats! Then bring the whole family out to run, skip, jog or dance your way through the course and get CRAZY colorful. Adults are $45 is=n advance – $65 day-of and includes a t-shirt, tattoos, race bib, sunglasses and more. Kids 12 and under are FREE with paid adult ticket. Register in advance HERE. Use the coupon code MIDLANDFB at registration for $4.00 off.
5. Illusionist Adam Trent will be at Wagner Noel Performing Arts Center this Sunday afternoon from 2:30 to 4:30. He is an illusionist from Las Vegas who puts on a very entertaining show appropriate for the entire family. Admission is $33 for adults – $6 for kids.