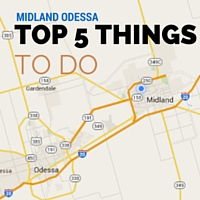 1. Sam Riggs will be at Rockin Rodeo this Friday. The show starts at 8pm. Tickets are $10 at the door. This is an 18+ show.
2. The 28th Annual Texas Soup Cook-off is this Saturday at the Martin County Community Center in Stanton. It is $5 for unlimited soup tastings. Proceeds benefit the restoration and preservation of the historic Carmelite Monastery/Convent. It is this Saturday evening from 5p to 7pm. ore info is available HERE.
3. The Soul Train Dance Party is this Saturday evening starting at 8pm. It is at the Grand Texan Hotel & Convention Center on Wall St in Midland. Get ready for a night of soul, funk and dancing! VIP tables are available. This is a 21+ event.
4. Midland 4H presents the Pancake Feast this Sunday afternoon at Midland County Extension Office (Highway 80 in Midland). This event is created to honor all First Responders. It will be Sunday afternoon from 2:30pm to 5:30pm.
5. The Odessa Art Association Art Demonstration is this Sunday at the Ellen Noel Art Museum (University Blvd in Odessa). Come witness a watercolor demonstration by Mary Lambeth and enjoy fellowship with other artists. It is Sunday afternoon from 2:15 to 4:30pm. Admission is FREE and everyone is welcome! Get more info HERE.